M-PART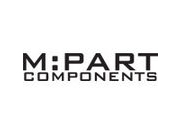 How often have you thought "If only someone made a part to do this job it would make my life so much easier"?
Well when it comes to your bike, M:Part have probably had the same thought. Not only that, the M:Part team have searched all over the world to find the best manufacturer of the part, and are proud to present the most comprehensive range of ever-so-useful but normally-hard-to-find parts available anywhere.
Take a look at what is on offer, and chances are you will see the perfect part to create your perfect bike.


There are currently no products from M-PART in our site.
Please
Contact Us
for details of this range of products.
If you can't find the items you are looking for within our main site, you should be able to view the complete range from M-PART by visiting their own website: (although please be aware that not all products may be available within the UK)
VISIT
M-PART Website