Frequently Asked Questions (FAQ)
I've not heard of you before, how can you reassure me that this is a genuine online retail website?


We have been in online retail since 2008 and as a shop we have been going for over 40, becoming one of the largest cycle retail websites in the UK.
You will also find our showroom in Halifax town centre stocking 99% of the stock you see on our website. We are open 7 days a week and are always happy to help.

We supply a range of Genesis Core 10 and Saracen Kili Chro-mo bikes to Bradford South Police as well as other fleet bikes to schools and local businesses. You will find us in the Bradford/Halifax yellow pages and online.

Far from us saying this, we have an ever growing number of
Testimonials
on our site -
Click Here
. Many thanks to everyone who has left a comment. We appreciate you have taken time out of your schedule and we like to read reviews whether it be good or bad. We like to improve we ever possible to make it a better experience for you the customer as well as ourselves!
How accurate are your stock levels?


Although we do try to keep up with ever changing levels of stock, due to having thousands of items on our website, this can sometimes be inaccurate.

If in doubt, please check with us first by phoning 01422 344602 between

Mon-Sat - 9:00 - 5:30
Sun - 10:00 - 4:00

This way we can give you a definite yes, no or when.
If you order an item that transpires to be out of stock, we will inform you within 24 hours.


How long does delivery take?

Stock permitting, dispatch usually takes 1-5 working days. Once dispatched your item will be with you for the next working day. For a more accurate date, call us on 01422 344602.


Who do you use for delivery?

For small items, we use Royal Mail Recorded delivery.This usually arrives the next deliverable day.
For larger items, we use TNT 48 Hours, 24 Hours or Saturay Delivery. These are always referring to business days, excluding Saturday.
How can I pay for one of your lovely bikes?

When buying with Ukbikesdepot you can pay a number of ways, these being:
Securely using a 3D secure gateway powered by Secure Hosting, one of the world's leading payment methods
The 3-D Secure™ protocol was developed by Visa to improve the security of Internet payments. The protocol is offered with the service name Verified by Visa. MasterCard has also adapted a similar protocol called MasterCard SecureCode. Both are designed to allow authentication of cardholders by their Issuers at participating merchants. The objective is to benefit all participants by providing Issuers the ability to fully authenticate cardholders through the use of a password during Internet purchases, reducing the likelihood of fraudulent usage of Visa and MasterCard credit cards and improving overall transaction performance.
Using our website to pay via secure hosting means your details are extra safe as staff at Ukbikesdepot CAN NOT ever see your details. We only see the last four digits of your card. The money is sent straight to us meaning we don't ever have to see your card details.
PayPal is a quick and easy way to pay for goods online, it's the same system used with other websites such as eBay.
Another great way to pay meaning nobody can see your banking details.
Finance
We have recently added the option to purchase a bike using finance. This means you can afford your dream bike.
We use a company called pay4later to do the deals on our finance. Using this service means you can get almost real-time decisions on finance options. You no longer have to have a face to face meeting with the bank manager!
We try to offer 0% finance on bikes at full retail meaning you get the best bike at the best price with no extra costs!
Unfortunately if the bike is discounted we will have to use a different finance option such as 4.5% finance.
There is a tool on our website next to every product available on finance so have a play around with that and get a deal you are happy with! Just add the bike to your basket to see your options.
All of our Scott 2013 bikes on 0% finance as are Genesis 2013, Saracen 2013 and Ridgeback 2013.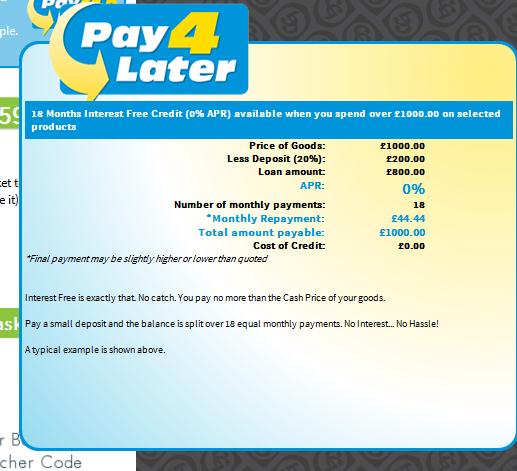 If you don't want to use the finance options there is always the ability to use our voucher codes to get extra discount off the bikes. Simply enter "BESTPRICE" at the checkout to see what discount is available.
We want you to be 100% satisfied with any product that you buy from Cycle Gear. If, in the unlikely event, you are not 100% happy with your purchase, Cycle Gear will refund the retail cost* of the product, provided that it is returned in a perfect saleable condition within 14 days. Any item bought in error will be exchanged*, i.e. where you buy the wrong size, although additional postage is a buyers cost.
All goods that we sell are covered by a warranty.
Most items have a warranty provided by their respective manufacturer BUT this warranty must be carried out by us.
If you feel that you have an item which is faulty, please return it to us with a copy of your original proof of purchase and our returns form. If it is found to be a genuine fault of manufacture we will of course repair or replace it free of charge and return it to you with no postage charges. However, if the item is found not to have a genuine fault covered by its warranty we will contact you to tell you of this. If you subsequently require the product to be returned back to you, we will have to make a charge for carriage.
*unfortunately we cannot refund actual expense ie postage and packing and you will be charged for postage on any replacement items we send out where the original mistake was not ours.
If for any reason that your item(s) are returned, please print out and complete the following form: Returns Form Cycle Gear will not accept any returns without this form.
Your Right to Cancel
If for any reason you would like to cancel your order before it has been received. Please call 01422 344602. Any orders that have not left our premises can be cancelled immediately (usually within 48 hrs).