WHYTE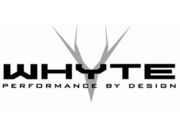 Whyte bikes are new to us here at Cycle gear - UKbikesdepot.com for 2014 but not new to the bike world. Whyte have been making, innovating and inspiring for decades, a true British brand built for proper UK conditions the bikes will give uncompromising standards of confidence and ability straight from the box.
Uncompromising performance and pushing the accepted performance limits is our constant goal.

Whyte bikes are new to us here at Cycle gear - UKbikesdepot.com for 2014 but now new to the bike trade. Whyte have been making, innovating and inspiring for decades, a rue British brand built for proper UK conditions the bikes will give uncompromising standards of confidence and ability straight from the box.
Uncompromising performance and Pushing the accepted performance limits is our constant goal.
More than a decade of insistent innovation and cutting edge development. Bike test awards and rave reviews on an annual basis. Something we're very proud of here at Whyte and the reason you'll never find us resting on our laurels.
Pushing the accepted performance limits is our constant goal and having a small and streamlined design team makes us fast on our feet and uniquely responsive to rider demands and new technological opportunities. It means we build the bikes we all want to ride, not the ones accountants and marketing departments would tell us to.
So while our 2013 line is the biggest Whyte family ever we've lost none of that crucial focus. Our bikes still handle better, last longer and cope with the UK's uniquely challenging riding demands more easily than any others. It's just that now, even more riders like you – and like us – can find their perfect bike in our range.
Uncompromising performance is an easy statement to make. Genuinely pursuing that goal with total contempt for the accepted limits - be they material and technological or even aesthetic and financial - is definitely not the easy path. But since when has the easiest route been the best or most enjoyable option?
From the first radical, ultra-smooth PRST-1 through the multi-award winning, long-travel 46 to the current benchmark 146 X and 29c models, we've never listened to market analysts or accountants - just riders. Riders like you.
That's why we make sure our beautifully engineered, light and tight bikes are still always engineered for every tough, technical situation that might come your way. Our bearings are warranted for life in the wettest UK conditions. Our component choices are proved and perfected by lapping Cwm Carn day after day. Our massive mud clearances are calibrated so that wheels will still go round as the Malverns becomes a mire for the fifth year running.
Geometry
Whyte geometry - Much more than just numbers. More than anything, the frame geometry of a bike defines its personality and determines how it will behave in different situations. And at Whyte, we're more than a little obsessive about it.
More than a decade's evolution on the UK's trails and roads has led us to ours; a perfectly balanced, confidence-inspiring feel that encourages and rewards the rider in equal measure, whatever their level of skill. For a beginner, that might mean handling that is always stable and predictable, whatever the terrain. For an intermediate it could mean taking a new, more challenging line on a familiar trail - or for an expert, the ability to push harder and faster than ever before.
The Whyte Difference. Our relaxed head angle and longer front-centre gives increased stability at speed - especially on steeper descents. A wider bar and shorter stem sharpens up the steering response for slow speed precision. We aim for as short a rear-centre as possible as this gives more agility - allowing the rider to pop and boost through the gnarliest trail obstacles.
The Whyte geometry formula is also applied to our unique 29ers with fantastic effect maintaining the agile handling that all our bikes are known for and offering true performance, balance and control especially on steeper technical sections which can really unsettle many rival designs.
R&D
Our R&D address might be in the Cotswolds, but our real test facilities are city streets and mountain trails all over the world. We work out multi piece carbon lay ups through riding countless laps of Welsh trail centres but have them verified by our race team as far away as the dry riverbeds of Botswana.
Our geometry is fractionally exact because we know it makes us faster and gives us more control, not because we've taken an average of what others have done. We are so confident of our suspension bearings, because we grind them through the same grit and grime you have to for thousands of hours a year. A CAD machine might make the final rendering, but that big lever on our unique seat clamp is there because we got sick of trying to shut a normal one with frozen fingers.
We know the addition of Crud Catcher mounts to our mountain bike frames is a significant one for all of us, because it means our eyes sting less after our lunchtime ride and our tea isn't washing grit off our teeth. We could go on, but you get the idea. Whyte are genuinely a small group of dedicated UK riders, determined to produce the best bikes we can and not afraid to break some rules and set some benchmarks along the way.
Materials
Materials - selected for consistency and longterm performance. We make frames from Aluminium and Carbon Fibre as both of these materials have their own specific properties and their own particular ride characteristics.
Whether we are looking to create the super-stiff structure required for a full suspension bike or the lively yet comfortable ride that characterises a top quality alloy hardtail frame, all the materials we use must have one thing in common - they have to be the best available.
Only then can we be sure we are achieving the best possible combination of strength and light weight and that the resulting frame will achieve the benchmark performance required by us and our customers.
Race Proven
Anyone can throw their shirt on the latest shaven legged wonder and win some races. We prefer our athletic ambassadors to be a little more real though. OK, so the speed global racer Luke Smith will come past you is scarcely believable. The relentless hour-after-hour velocity of multiple Enduro, Polaris and Trans Wales winner Steve Heading isn't good for others egos either. Their performance and passion is both an inspiration and an ideal development tool for us though.
These racers all clock up their victories and rack up training miles on proper tough technical trails and courses. They live and thrive in conditions where several seconds gained on a descent repeated thirty times in 24 hours are worth far, far more than a few shaved grams. Where consistently sure-footed traction and rock solid power transfer enable you to clean climbs all the way to the top of a podium as effectively as they do in the Peak District.
It's the reason our geometry is radically different from others default XC templates and why we know an extra 20mm of travel can mean an extra 200m gained through every technical singletrack. In other words we support racing translates directly to you going further, faster and having more fun every time you ride.
The durable and lightweight frames we produce have a relaxed race geometry which enables our athletes to hammer technical trails, sit in for long climbs and sprint with ease. Our bespoke 29er geometry has reset expectations of how well a bigger wheeled bike can handle. Racers have relied on the traction and immediate power transfer our designs deliver and have the results to prove it. They have powered fire roads, cleaned technical climbs and descended with precision - and remain an invaluable part of our development and testing process.
Quad-4 Suspension System
When we set out to design a suspension layout for 29ers we knew it had to be very different - nothing currently available offers our benchmark combination of progressive, contemporary frame geometry with year-round weatherproof reliability, a hereditary Quad-Link suspension feature.
We specified a weatherproof system, as our year-round riding demands it. We also needed to keep the rear of the bike as compact and stiff as possible whilst minimising the distance between the rear wheel and bottom bracket centres - no mean feat on a 29er suspension bike, but one of the fundamentals to Whyte's unique handling elixir.
The resulting suspension package, codenamed Quad 4, provides the perfect balance of suspension and frame geometry - and breaks new ground whilst covering it faster and smoother than you'd believe possible.
The best selling and award winning bikes so far:
Whyte T-129 S What Mountain Bike Trail Bike of the year 5/5.
If you can't find the items you are looking for within our main site, you should be able to view the complete range from WHYTE by visiting their own website: (although please be aware that not all products may be available within the UK)
VISIT
WHYTE Website